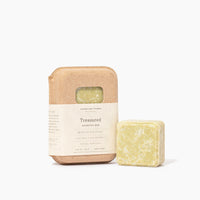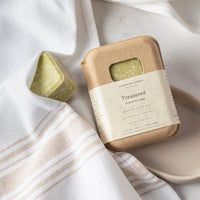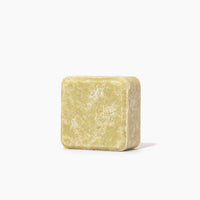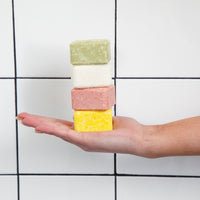 Description
How to use
Ingredients
 A refreshing shampoo bar
Take the time to treasure yourself with restoration and revitalization. With a refreshing peppermint and rosemary aroma and all the benefits of green tea, this bar will make your hair feel super clean, soft and healthy.
Just one bar will replace 2 whole bottles of 8oz liquid shampoo! Shampoo bars are the future for a clean and sustainable world. No more plastic ending up in a landfill or the ocean. 
 If you were still in any doubt, the shampoo bar can also be used on your face and body so for a traveler or that next camping trip, this is a must. No chance of a spillage in your suitcase or backpack either!
 Doubles Bar will ship in one box. 
Wet bar and massage in circular motion over your head to lather. Use fingers to build lather working through scalp and hair. Rinse thoroughly. 
Sodium Cocoyl Isethionate, Cocos nucifera (Coconut) Oil*, Mangifera indica (Mango) Kernel Butter*, Sodium Cocoyl Hydrolyzed Silk, BTMS 50, Cetyl Alcohol, dl-Panthenol, Camellia Sinensis (Match Green Tea) Powder*, Mentha piperita (Peppermint) Leaf Essential Oil*, Rosmarinus (Rosemary) officinalis Leaf Oil*, Liquid Germall Plus
KEY INGREDIENTS:
Matcha Green Tea
Rich in caffeine and antioxidants to nourish skin and hair and reduce the appearance of natural aging.
Peppermint Oil
Cools tired scalp, brightens dull hair and helps control excess oil production.
Rosemary Oil
Helps revitalize and nourish the hair and scalp, making it a very supportive and rejuvenating ingredient in hair care.