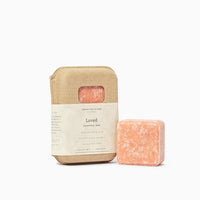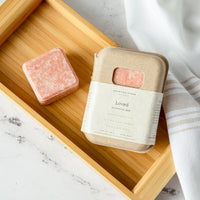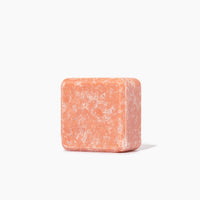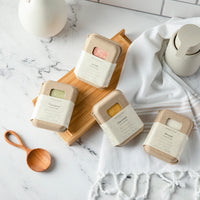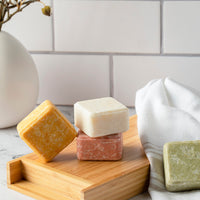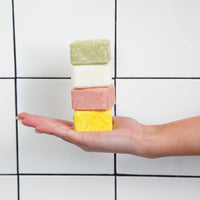 Loved Exfoliating Shampoo Bar
Description
How to use
Ingredients
Reward yourself with our most loved shampoo bar that gently exfoliates made with pink rosy clay powder, and experience all the benefits of pink grapefruits and orange essential oils for your hair, to get rid of build up while adding a gorgeous shine. 
Just one bar will replace 2-3 whole bottles of liquid shampoo! No more plastic ending up in a landfill or the ocean. 
If you were still in any doubt, the shampoo bar can also be used on your face and body so for a traveler or that next camping trip, this is a must. No chance of a spillage in your suitcase or backpack either!
 Doubles Bar will ship in one box. 
Wet bar and massage in circular motion over your head to lather. Use fingers to build lather working through scalp and hair. Rinse thoroughly. 
Sodium Cocoyl Isethionate, Cocos nucifera (Coconut) Oil*, Mangifera indica (Mango) Kernel Butter*, Sodium Cocoyl Hydrolyzed Silk, BTMS 50, Cetyl Alcohol, dl-Panthenol, Kaolin (Pink Clay) Powder, Citrus paradisi (Pink Grapefruit) Essential Oil, Citrus sinensis (Sweet Orange) Essential Oil, Liquid Germall Plus
KEY INGREDIENTS:
Pink Rose Clay
Rich in minerals, a gentle exfoliant, to purify the scalp without irritation, helping to replenish and restore balance in haircare.
Grapefruit Oil
Contains a large amount of Vitamin A and C, boosts strengthening hair stands, eliminating building of oil on the scalp. 
Sweet Orange Oil
Treats dry, irritated scalp and eliminates dandruff, rich in essential vitamins that provide deep nourishment to your hair follicles, making them thick and healthy.
Argan Oil
High level of squalene and essential fatty acids, contributes to moisturizing and nourishing the scalp and hair.