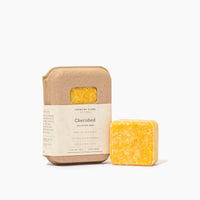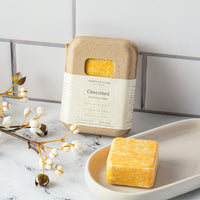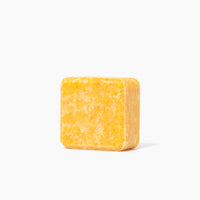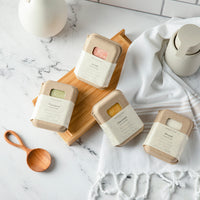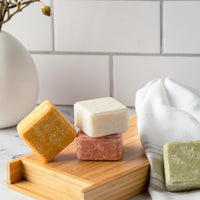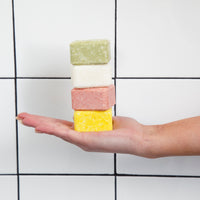 Cherished Balancing Shampoo Bar
Description
How to use
Ingredients
Your favorite shampoo bar has the power to transform shower time from a routine to a cherished experience. A perfectly balanced shampoo bar with the enchanting aroma of lemon and lavender to relax you while adding shine to your hair with the benefit of antioxidants in turmeric powder.  
Just one bar will replace 2 whole bottles of 8oz liquid shampoo! Shampoo bars are the future for a clean and sustainable world. No more plastic ending up in a landfill or the ocean. 
 If you were still in any doubt, the shampoo bar can also be used on your face and body so for a traveler or that next camping trip, this is a must. No chance of a spillage in your suitcase or backpack either!
 Doubles Bar will ship in one box. 
Wet bar and massage in circular motion over your head to lather. Use fingers to build lather working through scalp and hair. Rinse thoroughly. 
Sodium Cocoyl Isethionate, Cocos nucifera (Coconut) Oil*, Mangifera indica (Mango) Kernel Butter*,Argania spinosa (Argan) Oil*,Sodium Cocoyl Hydrolyzed Silk, BTMS 50, Cetyl Alcohol, dl-Panthenol,Hydrolyzed Silk,Hydroxypropyltrimonium Lemon Protein,Curcuma longa (Turmeric) Powder*, Citrus Limon (Lemon) Essential OIl, Lavendular Agustifolia (Lavender) Oil, Liquid Germall Plus
KEY INGREDIENTS:
Turmeric
Highly concentrated in antioxidants, promotes healthy scalp and hair to improve the appearance of dullness. 
Lemon Oil
Add a video popup link to show a play button. Share blog posts, products, or promotions with your customers. Use this text to describe products, share details on availability and style, or as a space to display recent reviews or FAQs.
Lavender Oil
Antimicrobial and soothing to the scalp, promotes and stimulates hair growth.