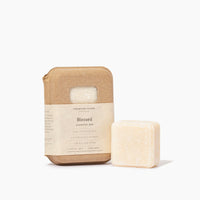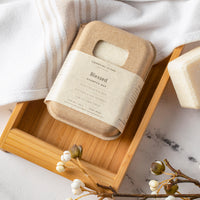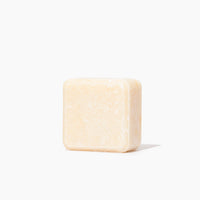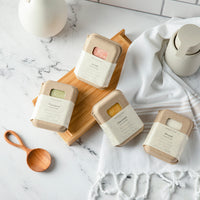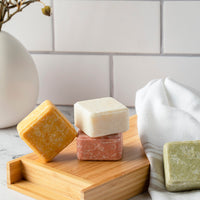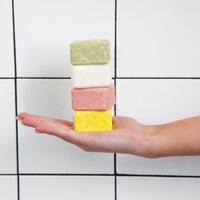 Blessed Purifying Shampoo Bar
Description
How to use
Ingredients
Experience the pure and gentle shampoo bar that is kind to you and kind to the planet. Blessed shampoo bar is formulated without any added scent or color. Gentle ingredients cleanse your hair without stripping away natural moisture in your scalp and hair.  
Just one bar will replace 2 whole bottles of 8oz liquid shampoo! Shampoo bars are the future for a clean and sustainable world. No more plastic ending up in a landfill or the ocean.
 If you were still in any doubt, the shampoo bar can also be used on your face and body so for a traveler or that next camping trip, this is a must. No chance of a spillage in your suitcase or backpack either!
Doubles Bar will ship in one box. 
Wet bar and massage in circular motion over your head to lather. Use fingers to build lather working through scalp and hair. Rinse thoroughly. 
Sodium Cocoyl Isethionate, Cocos nucifera (Coconut) Oil*, Mangifera indica (Mango) Kernel Butter*, Sodium Cocoyl Hydrolyzed Silk, BTMS 50, Cetyl Alcohol, dl-Panthenol, Aloe Barbadensis (Aloe Vera) Powder*, Liquid Germall Plus
KEY INGREDIENTS:
Coconut Oil
Excellent moisturizing effect and prevents water loss to prevent hair and skin becoming dry and brittle. 
Mango Kernel Butter
Superior emollient conditioner rich in fatty acids, appreciated for its moisturizing properties for dry skin and hair.
Aloe Vera
Helps moisturize and soothe the scalp and rectify split ends.